SSM Health, Saint Louis University Collaborate to Form the Region's Leading Fully Integrated Healthcare Delivery Network
SLUCare Physician Group will become part of SSM Health - St. Louis, deepening a longtime partnership to advance health equity, strengthen medical education and improve the health of the St. Louis community and beyond.
SLUCare Physician Group to become part of SSM Health - St. Louis
ST. LOUIS, April 28, 2022 – Two of the region's largest and most respected Catholic organizations, SSM Health and Saint Louis University, are deepening their partnership to advance health equity, strengthen medical education and improve the health of the St. Louis community and beyond.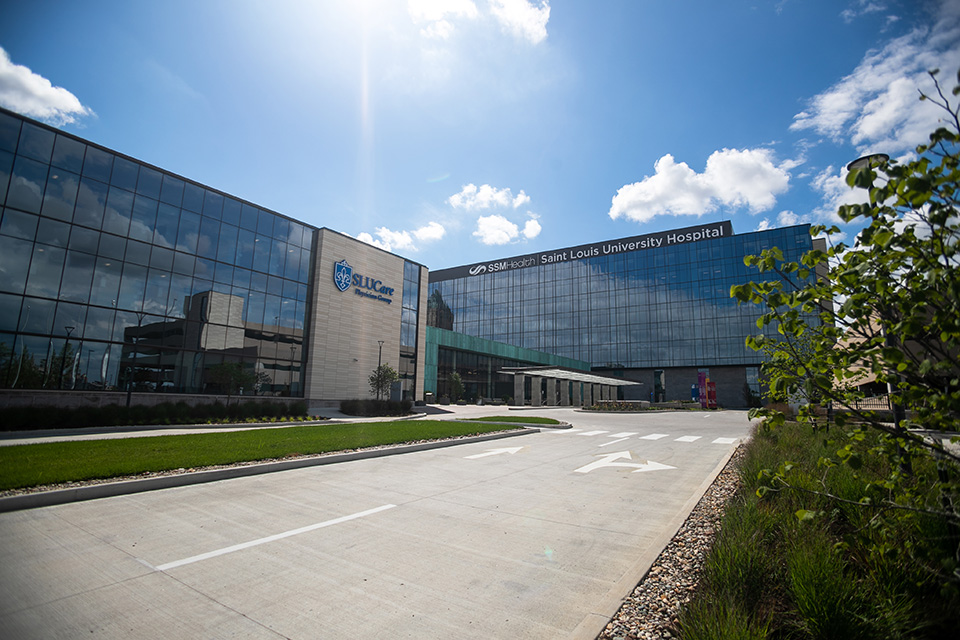 The Center for Specialized Medicine and SSM Health Saint Louis University Hospital.
Under a new agreement reached in principle, the two organizations will formally bring together the world-class academic medical expertise of SLUCare Physician Group with SSM Health's high-quality community-based care model to create the region's leading integrated healthcare network. Ownership of SLUCare Physician Group will transition from Saint Louis University to SSM Health when the transaction closes. The agreement is expected to be finalized later this summer, pending all regulatory and other approvals. 
SSM Health, SLUCare Physician Group and Saint Louis University School of Medicine have partnered for decades to deliver exceptional care at SSM Health Cardinal Glennon Children's Hospital, SSM Health St. Mary's Hospital and, more recently, at SSM Health Saint Louis University Hospital. Fully integrating SLUCare Physician Group into SSM Health will provide the community with improved and seamless access to all levels of care, from primary care and preventive services to highly specialized quaternary procedures and clinical trials that can deliver potentially breakthrough life-saving treatments.
The agreement also represents a significant investment in the Saint Louis University School of Medicine to expand clinical research, medical training and education in the region. 
Both SSM Health and SLUCare Physician Group are committed to ensuring a seamless transition. Patients of SLUCare Physician Group will experience no disruption in their health care providers or location of healthcare services.
"Both SSM Health and Saint Louis University School of Medicine have a rich legacy of providing hope and healing to those in need across the St. Louis community," said Laura S. Kaiser, FACHE, president and CEO of SSM Health. "SSM Health's founding congregation, the Franciscan Sisters of Mary, first arrived in St. Louis 150 years ago. As stewards of the healing ministry they began in 1872, we are thrilled to be taking this next step in our shared mission to ensure every patient gets the best care possible, while keeping that care affordable for the individuals and families we serve."
"The integration of SLUCare into SSM Health – St. Louis will create one of the most comprehensive fully integrated academic and community-based physician groups in the region, with more than 1,200 providers," said Dr. Fred P. Pestello, president of Saint Louis University. "This partnership will bolster our collective goal to improve the quality of life across generations and cultures while addressing the social determinants of health that prevent our neighbors from living life to the fullest. It will further serve to strengthen the academic and research missions of the School of Medicine."
"Working together, we can better meet the comprehensive needs of patients, as well as employers and payors who are looking to partner with health systems that can offer the full range of healthcare services, including the expanded breadth of specialists that an academic medical practice can provide," said Jeremy Fotheringham, regional president of SSM Health.
"Through seamless access and care coordination, we'll be able to deliver unparalleled value and convenience." 
"Saint Louis University School of Medicine has a long tradition of excellence in academic leadership, educating the doctors and scientists of the future, while advancing cutting-edge clinical research and patient care," said Christine Jacobs, M.D., dean of the School of Medicine and vice president of medical affairs. "This partnership will expand the scope of our primary and specialty healthcare, allowing greater access to clinical trials for our patients, while we educate diverse and committed future physicians for our region, and grow our research in the School of Medicine."
SLUCare's more than 600 faculty and other medical professionals are experts in their respective fields in over 50 medical specialties. Through this agreement, SLUCare will become a dedicated academic physician division within SSM Health - St. Louis, and partner closely with SSM Health Medical Group's more than 600 highly trained community-based providers with more than 50 physician office locations as well as comprehensive virtual and digital health services. 
About Saint Louis University
Founded in 1818, Saint Louis University is one of the nation's oldest and most prestigious Catholic institutions. Rooted in Jesuit values and its pioneering history as the first university west of the Mississippi River, SLU offers nearly 13,000 students a rigorous, transformative education of the whole person. At the core of the University's diverse community of scholars is SLU's service-focused mission, which challenges and prepares students to make the world a better, more just place.
About SSM Health
Founded in St. Louis in 1872, SSM Health is a Catholic, not-for-profit health system serving the comprehensive health needs of communities across the Midwest through a robust and fully integrated health care delivery system. The organization's nearly 40,000 employees and 11,000 providers are committed to providing exceptional health care services and revealing God's healing presence to everyone they serve.
With care delivery sites in Illinois, Missouri, Oklahoma and Wisconsin, SSM Health includes 23 hospitals, more than 290 physician offices and other outpatient and virtual care services, 10 post-acute facilities, comprehensive home care and hospice services, a pharmacy benefit company, a health insurance company and an accountable care organization. It is one of the largest employers in every community it serves. For more information, visit ssmhealth.com or find us on Facebook and Twitter.